Hello! I'm Tony "Ace" Anderson, an experienced iGaming SEO consultant with a successful track record and a unique perspective gained from years of working on both the operators' and affiliates' sides of the industry. My knowledge extends across various geographies including Europe, Asia, Latin America, and Africa.
One of the standout moments in my career was identifying and resolving a significant issue where a client was losing around $2,000,000 monthly due to regional blocking and fraudulent competitor activities. We took several SEO and legal actions against these fraudulent websites, established brand protection sites, and created mirror sites for regions where the product was banned. After just four months, we managed to remove all fraudulent products from search results and regained control of our brand's online presence.
iGaming SEO Consultant Services:
Keyword Research: Conducting in-depth analysis of relevant keywords to target for the iGaming industry.
On-Page SEO: Improving site speed, ensuring mobile optimization, and making the website easily crawlable and indexable.
Off-Page SEO: Building high-quality backlinks and improving the online reputation of iGaming websites.
Technical SEO: Optimizing the website for geographically specific searches, important for regions where iGaming is popular.
Local SEO: Reviewing the website's SEO strategy to identify strengths and areas for improvement.
SEO Auditing: Providing a comprehensive review of the website's SEO strategy.
Content Creation: Crafting valuable and relevant content to attract and retain users.
Link Building: Creating a strong backlink profile to improve site's authority.
Casino Affiliate Website Design: Designing websites that attract and convert visitors.
Gambling App Store Optimization (ASO): Optimizing gambling apps to rank higher in app store searches.
My approach to SEO is pragmatic and ROI-focused. Whether it's white-hat, grey-hat, or black-hat tactics, I utilize what's necessary to drive results. However, my goal is to always provide cost-effective solutions. In the toughest situations, you can count on me to be proactive, coming up with innovative strategies to ensure your site's success.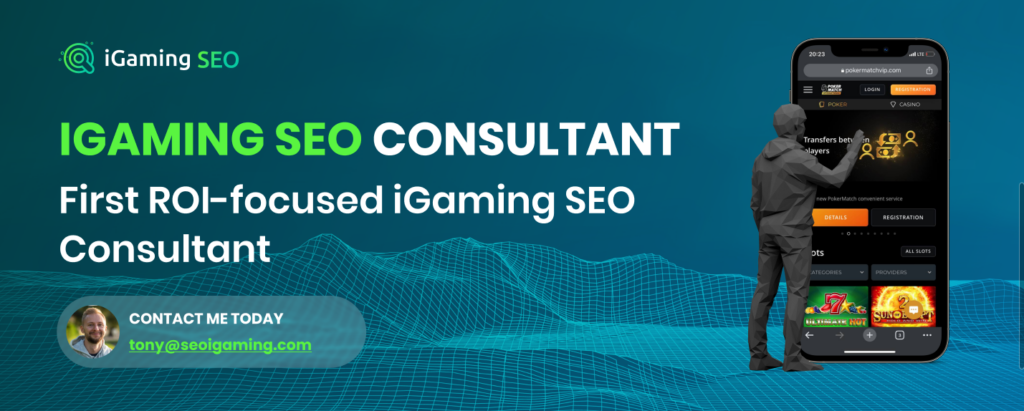 Throughout my career, I've had the pleasure of working with renowned brands such as Evoplay, Parimatch, 1xBet, and MelBet. Beyond SEO consulting, I also offer services like content creation, link building, casino affiliate website design, and gambling App Store Optimization (ASO).
iGaming SEO Consultant Services
| Service Category | Description |
| --- | --- |
| Keyword Research | In-depth analysis of relevant keywords to target for iGaming industry. |
| On-Page SEO | Ensuring the website is easily crawlable and indexable, improving site speed, and ensuring mobile optimization. |
| Off-Page SEO | Building high-quality backlinks and improving the online reputation of your iGaming website. |
| Technical SEO | Optimization of the website for geographically specific searches, especially important for regions where iGaming is popular. |
| Local SEO | A comprehensive review of your website's SEO strategy to identify strengths and areas for improvement. |
| SEO Auditing | Comprehensive review of your website's SEO strategy to identify strengths and areas for improvement. |
To discuss your needs or start working with me, the best way to get in touch is via email. I speak English, Russian, and Spanish fluently, enabling me to serve a diverse clientele globally.
In addition to my work as a consultant, I also enjoy sharing my knowledge with the wider community. I've spoken at industry events like the SiGMA – World's Gaming Festival and the Affiliate Grand Slam.
My ambition is clear – I aim to be the #1 name in iGaming SEO. I'm committed to staying on top of industry trends and delivering the best results for my clients. Let's work together to boost your iGaming website's performance and ranking. Contact me today and let's start this journey together.
What to Look for in an iGaming SEO Consultant
When considering an iGaming SEO consultant, there are several critical factors you should take into account. Not all SEO experts are created equal, and in the unique iGaming industry, you'll need a consultant with specific skills, experience, and a successful track record.
Necessary Skills and Experience for an iGaming SEO Specialist
An effective iGaming SEO specialist needs a strong foundation in general SEO principles, but they also require a deep understanding of the iGaming industry. They must be well-versed in keyword research, link building, on-page and off-page optimization, technical SEO, and content creation. These are the basic elements to boost your online visibility.
Furthermore, they should have a firm grasp of the latest advancements in iGaming technology, customer behavior, and preferences. Experience in dealing with different geographies and their legal regulations concerning online gambling is also vital. This is where a consultant like myself, with fluency in multiple languages and hands-on experience across various markets, can bring immense value.
The Importance of a Proven Track Record in the iGaming Industry
The iGaming industry is highly competitive, and the SEO strategies that work in other niches might not yield the same results here. That's why a proven track record is invaluable. Look for a consultant who can demonstrate quantifiable results they've achieved for past clients, similar to the massive improvements I led in recovering lost online traffic for a brand.
An experienced consultant will also be adept at navigating the unique challenges of the iGaming industry, such as regional restrictions and competitor activities, and implementing creative solutions to overcome them.
Staying Updated with iGaming and SEO Trends
Lastly, but perhaps most importantly, the best iGaming SEO consultants will be those who stay up-to-date with trends in both the SEO and iGaming worlds. The online gambling industry evolves rapidly, with new games, regulations, and technology appearing all the time. Similarly, Google's algorithms and SEO best practices are always changing.
A good consultant needs to keep a finger on the pulse of these changes to adapt strategies accordingly and maintain a competitive edge. As a regular speaker at industry events and a devoted professional, I am committed to continuous learning and innovation in my practices.
Choosing the right SEO consultant can make a significant difference in your iGaming business's success. With the right skills, experience, and commitment to staying current, a consultant like me can help elevate your brand to new heights.
Benefits of Hiring an iGaming SEO Expert
Opting to work with a seasoned iGaming SEO consultant like myself can offer a myriad of benefits for your online gaming brand. Below are a few ways I can provide value to your business:
Increased Visibility and Search Engine Rankings
First and foremost, effective SEO practices lead to enhanced visibility and higher rankings on search engine result pages (SERPs). This is crucial in the highly competitive iGaming market where players have countless options at their fingertips. By targeting relevant keywords, optimizing on-page elements, and building a robust backlink profile, I can help improve your site's ranking for targeted search queries. This will make your brand more visible to potential players, leading to increased traffic and ultimately, more business for your company.
Improved User Experience and Site Navigation
SEO isn't just about search engines; it's also about people. A crucial part of effective SEO is creating a seamless user experience on your site. This includes ensuring your website is easy to navigate, mobile-friendly, and fast-loading, as well as providing high-quality, relevant content. These factors not only impact your search engine ranking but also determine how long users stay on your site and how likely they are to convert into paying customers. By optimizing these elements, I can help you provide a superior user experience that keeps players coming back.
Targeted Traffic and Higher Conversion Rates
The goal of SEO isn't just to increase traffic; it's to increase the right kind of traffic. By focusing on keywords and topics relevant to your target audience, a skilled iGaming SEO consultant can attract users who are genuinely interested in what your brand has to offer. These users are more likely to engage with your site, sign up for an account, and start playing.
Moreover, I can assist in optimizing your website's conversion funnel and deploying tactics such as CRO (Conversion Rate Optimization) to increase the likelihood that visitors will take desired actions on your site. With a well-implemented SEO strategy, you'll see not just more traffic, but higher-quality traffic that translates into tangible business results.
In conclusion, hiring a seasoned iGaming SEO expert like myself could be one of the most beneficial decisions you can make for your business's online success. It's an investment that pays dividends in increased visibility, a superior user experience, and ultimately, a stronger bottom line.
Role of an iGaming SEO Specialist
Being an iGaming SEO specialist involves more than just understanding how search engines work. It's a multifaceted role that requires a deep understanding of the iGaming industry, excellent technical skills, and a knack for strategic thinking. Below, I outline some of the main responsibilities and tasks involved in my role as an iGaming SEO specialist:
In-depth Site Analysis and Recommendations
One of the first steps in any SEO project is a comprehensive site analysis. This involves reviewing your website's current SEO performance, identifying any technical issues that could be hindering your search engine ranking, and assessing the quality and relevancy of your content. With my technical expertise and industry knowledge, I can quickly identify areas of weakness and provide concrete recommendations on how to improve your site's SEO performance.
In addition, I also analyze your site's link profile and competitive landscape. This information is invaluable for devising a robust SEO strategy that will allow your brand to outrank its competitors.
Keyword Research and Content Strategy in the iGaming Sector
Another significant aspect of my work as an iGaming SEO consultant is keyword research. This involves identifying the search terms that potential players are using when looking for online gaming options, and then crafting a content strategy that targets these keywords effectively.
However, effective SEO isn't just about stuffing your content with keywords. It's about providing valuable and relevant content that meets users' needs and builds trust in your brand. As part of my services, I can help you develop a comprehensive content strategy that balances SEO goals with providing an excellent user experience.
Monitoring SEO Performance and Making Necessary Adjustments
SEO isn't a one-time task. Search engine algorithms are constantly changing, and what works today may not work tomorrow. As your iGaming SEO consultant, it's my job to keep a pulse on your site's SEO performance and the latest industry trends.
I continuously monitor key metrics such as organic traffic, rankings for target keywords, and conversion rates, making necessary adjustments to your SEO strategy as needed. I also keep an eye on the competitive landscape, ensuring that your brand remains ahead of the curve.
In summary, the role of an iGaming SEO specialist is multifaceted one that requires a deep understanding of both SEO and the iGaming industry. By working with me, you'll have the advantage of an expert who can navigate these complexities and help your brand achieve its online potential.
How to Choose the Right iGaming SEO Consultant
When it comes to iGaming SEO, choosing the right consultant can be the difference between your website ranking at the top of search results or getting lost in the sea of competitors. Here are some important factors to consider when selecting an iGaming SEO expert:
Evaluation Criteria for Selecting an iGaming SEO Expert
Experience in the iGaming Industry: The iGaming industry is unique, with its own set of challenges, regulations, and customer behaviors. An SEO consultant with direct experience in this industry will understand these nuances and be better equipped to optimize your website accordingly. In my case, my years of experience as an iGaming SEO consultant have equipped me with the skills and knowledge needed to help iGaming businesses thrive.
Proven Track Record: Look for an SEO expert who can demonstrate a proven track record of successful projects in the iGaming industry. Success in SEO is measured in terms of improved rankings, increased organic traffic, and ultimately, higher conversion rates. I'm proud to have a portfolio of successful projects that have achieved all these goals for my clients.
Up-to-Date Knowledge: SEO is a constantly evolving field, with search engine algorithms regularly updated. It's essential to choose an iGaming SEO expert who stays on top of these changes and adapts their strategies accordingly. I am committed to continuous learning and always stay updated with the latest SEO and iGaming trends.
Questions to Ask During the Selection Process
Here are a few questions you may want to ask potential iGaming SEO consultants:
Can you share some examples of your previous work in the iGaming industry?
How do you approach keyword research and content strategy in the iGaming sector?
How do you stay updated with the latest SEO and iGaming trends?
How will you measure and report on the success of our SEO campaign?
Can you provide references from past clients in the iGaming industry?
By asking these questions and considering the evaluation criteria, you'll be in a good position to choose the right iGaming SEO consultant who can help your brand achieve its online potential. Remember, the goal is to find an expert who understands your business, shares your vision, and has the skills and experience to turn that vision into reality.
Why Choose Us As Your iGaming SEO Consultant
| Reason | Explanation |
| --- | --- |
| Industry Experience | Deep understanding of the iGaming industry and its unique SEO challenges. |
| Proven Success | Track record of successfully improving search engine rankings for iGaming websites. |
| Tailored Approach | Customized SEO strategies developed specifically for your iGaming business needs. |
| Comprehensive Service | Full range of SEO services from keyword research to technical audits. |
| Ongoing Support | Regular updates, reports, and consultations to ensure SEO strategy continues to deliver results. |
iGaming SEO Consultant FAQ
What specific services does an iGaming SEO consultant provide?
An iGaming SEO consultant provides a range of services tailored to the unique needs of the iGaming industry. This includes keyword research, on-page and off-page SEO, technical SEO, link building, competitor analysis, local and international SEO strategies, and performance reporting. They also offer guidance on content creation that meets SEO best practices and is aligned with the unique jargon and player language of the iGaming industry.
How does an iGaming SEO consultant conduct keyword research for iGaming websites?
iGaming SEO consultants use a variety of tools and techniques to conduct keyword research. They identify relevant keywords based on factors like search volume, competitiveness, and user intent. They also consider the unique aspects of the iGaming industry, such as industry-specific jargon, trending games, and popular platforms, when identifying potential keywords.
What metrics or indicators do you use to measure the success of your SEO strategies in iGaming?
Various metrics are used to gauge the success of SEO strategies in iGaming, including organic traffic, keyword rankings, bounce rate, page load speed, time on site, and conversion rate. These metrics help to provide a comprehensive view of how well the iGaming website is performing in search engine results and how users are interacting with the site.
What unique strategies or approaches do you use for SEO in the iGaming industry?
In the iGaming industry, unique SEO strategies may include a strong focus on mobile optimization given the prevalence of mobile gaming, utilization of industry-specific keywords, creation of high-quality, engaging content that appeals to gaming enthusiasts, and development of strong link-building strategies with other reputable and relevant iGaming websites. There is also an emphasis on ensuring that SEO practices comply with various regulations that govern the iGaming industry.